"Molly Brown" Genealogy Project
A joint project by Julie Miller, CGSM and Becky Olson, owner of Olsongraphics Keepsake Family Trees

Click here for Brown-Tobin Genealogy
Click here for Brown-Tobin Family Tree Chart
(This is a large file and will take a few minutes to load)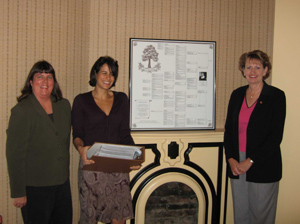 On November 10, 2005, Becky Olson presented the Brown-Tobin Family Tree and Julie Miller, CG presented the Heritage Album to Kerri Atter, Curator of the Molly Brown House Museum (1340 Pennsylvania St., Denver, Colorado).



Becky Olson, Kerri Atter, and Julie Miller

Julie Miller is a certified genealogist from Broomfield, Colorado. She is a genealogy researcher, teacher, lecturer and writer. Julie was the genealogy columnist for the Broomfield Enterprise for ten years, and is active in many national, state and local genealogy societies. More information on Julie can be obtained from her web site at www.jpmresearch.com.

Becky Olson is the owner of Olsongraphics Keepsake Family Trees, Denver, Colorado. She has been creating custom designed family trees and charts for those interested in genealogy since 1995. Becky is past Corresponding Secretary of the Colorado Genealogical Society and is active in many genealogical societies. More information about Olsongraphics can be obtained from the web site at http://www.KeepsakeFamilyTree.com.
PROJECT BACKGROUND:
In 1999, Becky Olson attended a Denver area book presentation by Kristen Iverson, author of Molly Brown - Unraveling the Myth. Becky was fascinated by the genealogy detail referenced in the book. She envisioned a Brown-Tobin Family Tree depicting the lineage of Margaret Tobin Brown, heroine of the Titantic and her wealthy Colorado mine owner husband, James J. "J.J." Brown. After various communications between Kristin and Becky, seeds were sown for what was to become the "Molly Brown" Genealogy Project.
Kristin introduced Becky to the curator at the Molly Brown House Museum. Preliminary plans were discussed for the creation of the Brown-Tobin Family Tree. After reviewing the genealogical documentation, it was evident that there was quite a bit of undocumented and conflicting information. In early 2002, Becky sought expert genealogical research assistance from Julie Miller.
PROJECT OVERVIEW:
On September 26, 2002, Becky and Julie met with Kerri Atter, Curator of the Molly Brown House Museum. It was agreed that Julie would investigate to find supporting documentation for the information assembled. Kerri also requested that Julie seek additional information on the descendants of the siblings of Margaret Tobin Brown and her husband, James J. "J.J." Brown.
Over the next three years, Julie collected information gathered at the Denver Public Library, Colorado Historical Society, National Archives-Rocky Mountain Region, and the Family History Library in Salt Lake City. She also traveled to Missouri to do on-site research. The information was organized in the Legacy Family Tree Genealogy software and the documentation was assembled into a Brown-Tobin Genealogy Heritage Album. In the summer of 2005, the information was reviewed and designed into the Brown-Tobin Family Tree by Becky. The album and tree were presented to Kerri on November 10, 2005. The Family Tree is on public exhibition at the Museum. The Heritage Album is stored in the Museum Archives and is available upon request.
PROJECT'S FUTURE:
Both Becky and Julie plan to update the tree and genealogy when new information is discovered. Any person with corrections or additions is encouraged to contact Julie at julie@jpmresearch.com.
SPECIAL THANKS FOR THEIR SUPPORT AND ASSISTANCE:
James Jeffrey, Genealogy Specialist at the Denver Public Library
Rebecca Lintz, Librarian at the Colorado Historical Society
Vicki Dempsey, owner of the Molly Brown Birthplace Museum, Hannibal, Missouri
Visit the Molly Brown House Museum at 1340 Pennsylvania Street, Denver, Colorado or online at http://www.mollybrown.org.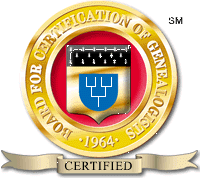 CG or Certified Genealogist, is a service mark
of the Board for Certification of Genealogists (BCG)
used under license after periodic examination by the Board.

Questions or comments concerning this web page, please contact: julie@jpmresearch.com
Copyright © Julie Miller